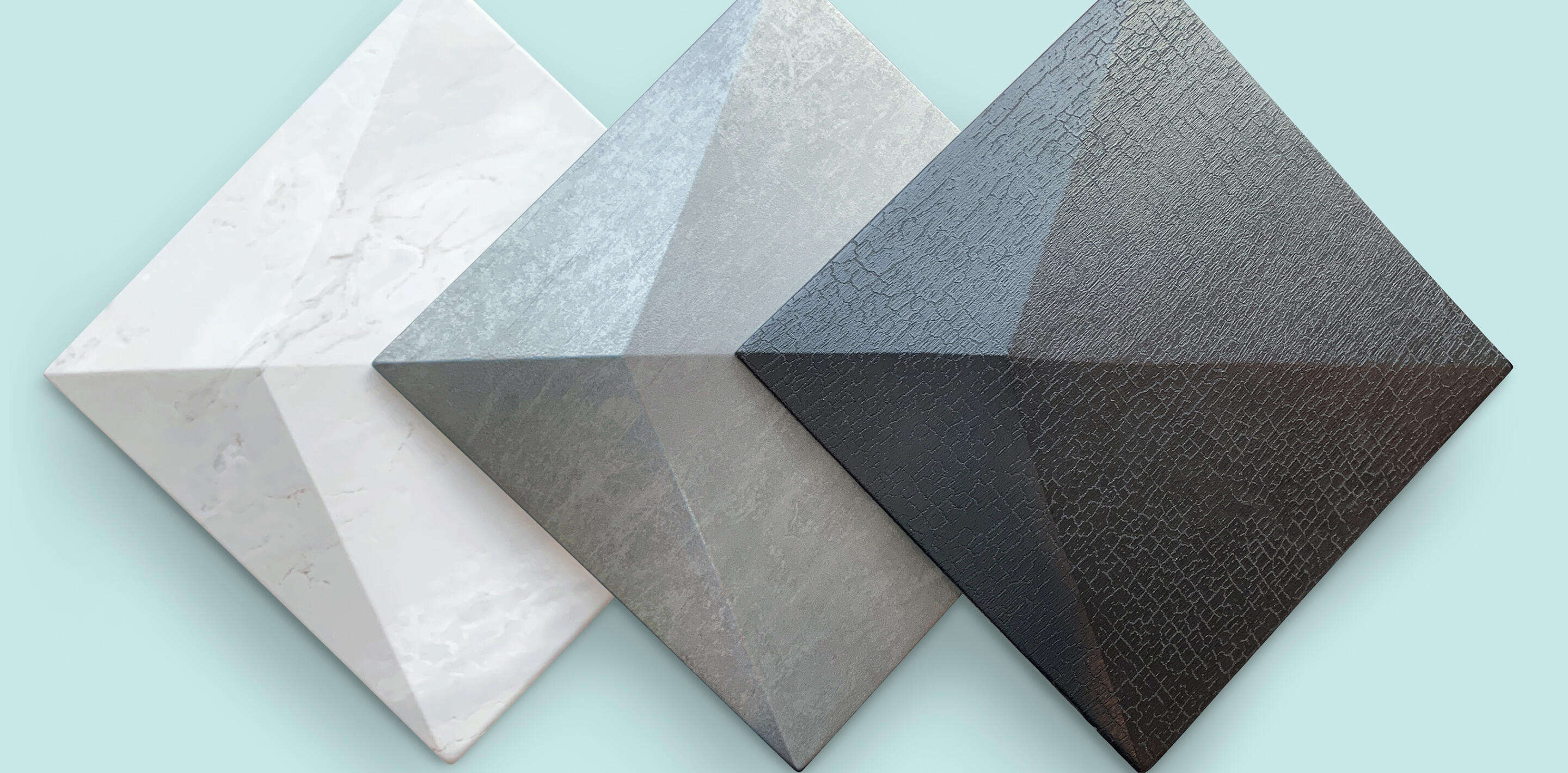 June 9, 2022
New Kuvio finish options and simple installation method
Kuvio perfected
Scalable, affordable, and flexible. The latest updates to Kuvio from Lumicor allow for more creativity, better performance, and, most important, easier installation methods. Consider this Kuvio 2.0.
Lumicor is dedicated to refining the standout Kuvio line by ensuring the line's offerings stand up to previous challenges. By building upon strengths and expanding options offered, Kuvio has never been better.
The difference between Kuvio and other wall tile products is its ease of installation. Kuvio can install in hours, not days. At a miraculous one pound per tile, the installation process is exceptionally fast, meaning less labor costs. The new peel-and-stick installation method provides for a quick, easy install which also affords more options to clients. It offers a secure, but not permanent, adhesion. This important advancement allows designers to make seasonal installations and easy refreshes without damaging the tile or wall underneath.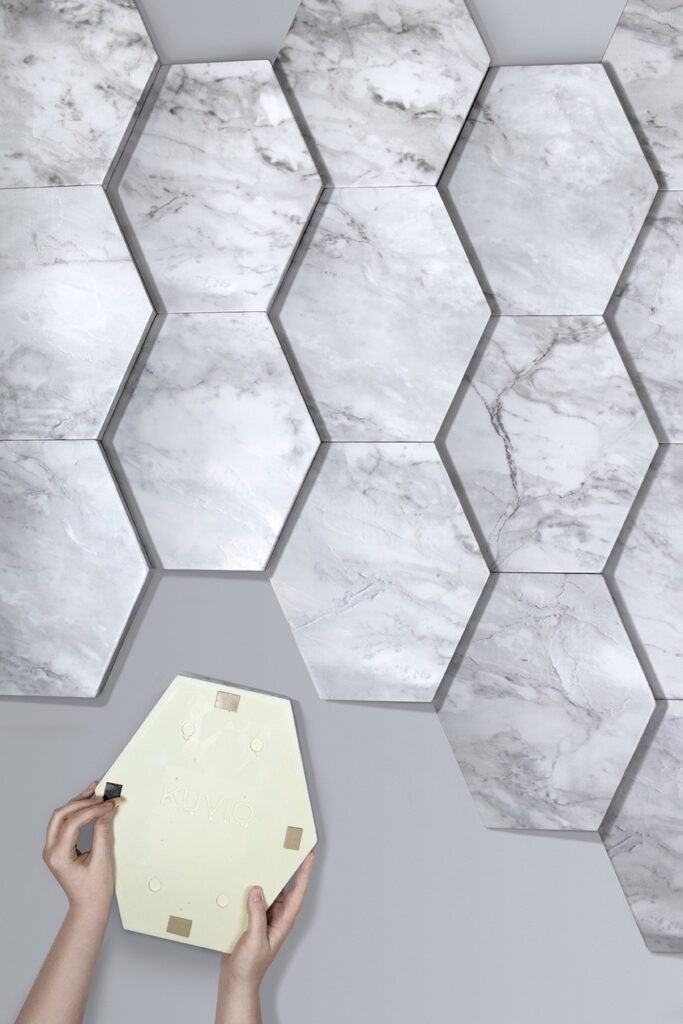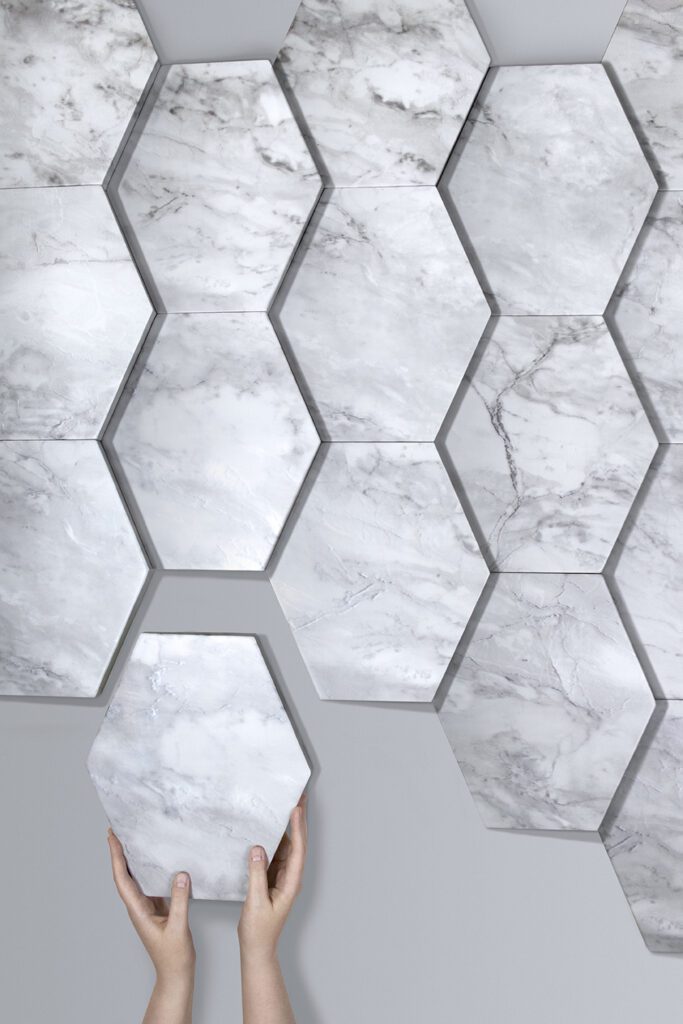 Great design doesn't have to be complex or expensive
Genius pattern play is the beauty of Kuvio design: stack to basketweave to chevron to radial. The online configurator allows designers to play with patterns and create their designs in one easy-to-use tool. The expanded Kuvio dimensional wall tile collection features seven shapes and 15 finishes. Plus, because biophilic design has always been at the core of Lumicor designs, Kuvio is complete with finishes that mimic nature, including wood grains, marble, and a stunning visual inspired by the art of Japanese charred wood called Shou Sugi Ban. In addition, finishes such as concrete, metals, cotton weave, and textural solids provide endless options to create unique and inspiring spaces.
Kuvio is ideal for any and all markets where a designer is looking for dramatic feature walls, to subdivide spaces, or to create a ceiling focal point, which is possible thanks to Kuvio's lightweight construction. Inspiring hotel lobbies, unique retail cash-wrap backdrops, corporate office wayfinding, healthcare waiting areas–the applications are as endless as the design options.
Kuvio's construction of expanding rigid class-A foam, paired with ultra-realistic finishes regularly used in the cabinet industry, provide creative reuse of familiar architectural materials. These materials are nothing new, but the manner in which they are all put together is groundbreaking.
We invite you to get creative and experience Kuvio.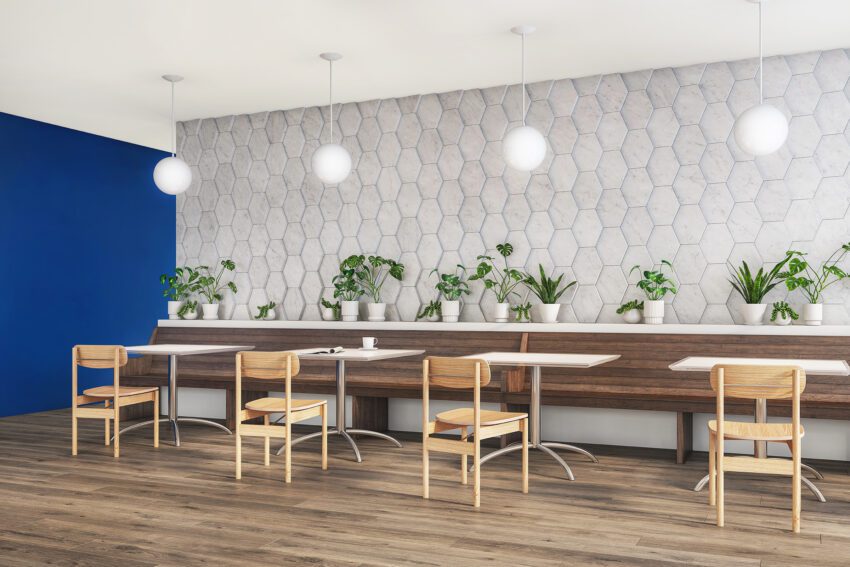 About Lumicor
Lumicor designs, develops, and manufactures innovative architectural panels, tiles, and resin solutions for architects and designers to enhance spaces with light, color, texture, and shapes. Our architectural panels and tiles bring an element of design inspiration, mood, and light play to interiors using natural, manmade, and digitally inspired designs.
Our decorative panels and tiles are manufactured in the USA at our in Renton, Wash. Each artisan panel or tile is handcrafted using organic material, fabrics, and metals from around the globe, creating one-of-a-kind items that add an innovative aesthetic to architectural installations.
We have incorporated these unique materials into an exciting collection of architectural panels, tiles, and inspirations to meet all your design and project needs. We understand the daily challenge of architects and designers to create interior environments that are functional and beautiful. Lumicor products offer a practical solution to bring light, texture, color, and inspiration to any space.
Lumicor views our corporate environmental responsibility very seriously and has incorporated these sustainability practices into our manufacturing process.